Welcome to Chris Herr's Camarilla Gallery
Greetings and Felicitations, this collection of pictures are ones that have been sent to me, or that I have taken with a trusty and true Digital Camera.
As for the small number of pictures, well, if only I didn't want to Larp so much there would be more. (Note if you do want to see more pictures, kill my characters early in the game, or send me some. :)

Also, if you would like to submit pictures, please feel free to do so at the address at the bottom of the page.

Click on the thumbnail image for the full size picture.


---
As Spring 2002 rolls in, I wanted to post a few pictures
from a Richmond game that we attended a bit ago.
---

Here is a pic which was taken at NEGLECT 2001 of Tara Crawford, me, and Kerry Collier as Lady Tess, Rhett Lynn Marx, and Michael Bishop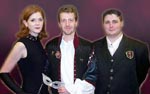 ---
These are a few pictures from the Ansate Cross sponsored
Tremere Ball in the NRV on September 5th, 1998.
(They are alittle dark, you'll have to excuse me...)
---

Some local folk from a DC game at the end of August
---

These are pictures from the August 22nd
Dark Capital larp in Sterling.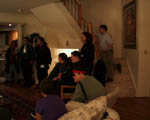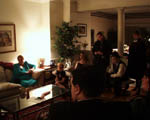 ---

Some Pictures of our road cleanup sign, hopefully at the next big cleanup that isn't raining we can get a good group shot.
---

Some photo-friendly Gangrel around the end of August
THE CAMARILLA, VAMPIRE: THE MASQUERADE, AND WEREWOLF: THE APOCALYPSE are all Registered Trademarks of White Wolf Game Studios.
Any use of White Wolf Game Studios' copyrighted material or trademarks at this WWW site should not be viewed as a challenge to those copyrights or trademarks.
This is a site for entertainment purposes only, in no way does it promote real life vampirism.

If anyone notices problems or has suggestions about this page,
please email the webmaster: chris@herr.com