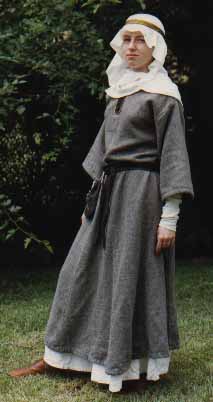 The gown is just a full-lengh tunic for women. The front and back gores reach to the waist, but the side gores may reach to the armpits. The sleeves are made to fit the forearms, but the body is not shaped--there are no darts, gathers, or curved seams. Certainly the hem is not slit!

As with men's clothing, it was common to wear a wool dress over a linen underdress (shift or chemise), but women's fashions had a little more variation through time. Tenth and eleventh century Norse and Saxon dresses tended to be looser fit, bloused over the belt, and sometimes an extra overdress was worn, knee-length with shorter or unfitted sleeves. Norman styles were closer fit, so side gores should come only to the waist.


In the twelfth century the overdress could be loose or snug in the torso, sometimes laced up the sides to give a closer fit. Flaired sleeves were common in the upper class. In the thirteenth century, everyone was back to a loose fit with tight sleeves, sometimes buttoned along the forearms.

At left, Rhyselyn is dressed as a Saxon woman, and at right as a 12th century lady.