MIDGARD BASIC CLOTHING STANDARDS
HOSEN 10/23/04

The simplest hosen are just fabric tubes which fit the leg closely from crotch to ankle and have a lace or hole at the top to which the braies laces tie, and perhaps a stirrup under the foot. But hosen with feet were quite common, and are also warmer! Hosen are best made of wool and cut on the bias--diagonally across the fabric--which makes them surprisingly stretch and allows a tighter fit.

Start by making pattern pieces out of scrap fabric first, and fit them to your feet and ankles, making any necessary adjustments before cutting your good fabric. Be careful to leave the ankle large enough for your foot to go through, and remember that the long seam runs up the back of the leg.

Hosen were most frequently worn with just the ties to the braies supporting them, but you may wear simple garters below the knee, or crossgarters (at least 9 feet long each) for Hastings era or before. Garters and crossgarters can be from half an inch to about an inch wide. They can be simple leather strips, or fabric bands such as twill tape or something woven for the purpose by card-weaving or on an inkle loom.
Woolen hosen at left, with points tying to loops on the braies. Here is a close-up of the foot--there is a patch under the heel and one on the toe. (Aelfric's garments lead hard lives!)

Linen hosen at right, with holes for points on the braies to tie through. The feet are patched and worn through again, and the soles on this pair are leather.

Both of these are made following the pattern below.

Ladies hosen need only cover the knee, where they are held up by knee garters or crossgarters. You will need 1-1/3 to 2 yards of fabric for full-length hosen cut on the bias, depending on the length and thickness of your legs, and the fabric width. (i.e., if you are 6'2" tall with 26" thighs, 2 yards of 48"-wide fabric will do.)

| | |
| --- | --- |
| Also in use were leggings called winingas, much like World War I puttees: fabric or leather bands 3 to 4 inches wide and 10 to 12 feet long, wrapped spirally down your leg from knee to ankle. (Do NOT use a square of something tied to your leg!) Wrap the end once or twice around the foot, then put on your shoe, and the winingas will stay in place all day. There is also evidence that winingas were started at the foot or ankle and wound upwards, and secured with small metal hooks. Winingas are usually worn over the hosen but can also be worn over trousers, or even on bare legs with just the braies. That at right is leather--wool works much better, as it clings to itself. The edges of wool winingas can be left unhemmed. See this link for MUCH nicer winingas! | |
A pair of winingas is very helpful in making bad legwear look much better. Trousers that are too loose or made of inappropriate fabric, for instance, can be wrapped and hidden until you have a chance to upgrade your clothing.


---
For a Regia Anglorum page summarizing the early evidence for hosen, see http://www.mathomhouse.com/regia/references/
For a page on winingas, see http://www.geocities.com/baldurstrand/winingas/winingas.html.

Technical details on finds of winningas or "wickelbander", by Peter Beatson
http://users.bigpond.net.au/quarfwa/miklagard/Articles/legwraps3.html

Viking Experience Kit Guide on Hosen, http://www.the-viking-expericence.co.uk/authenticity/basickit/basickit7.html (though the first pattern is a little odd!)

Making Chausses and Braies, http://www.randyasplund.com/browse/medieval/chauss2.html.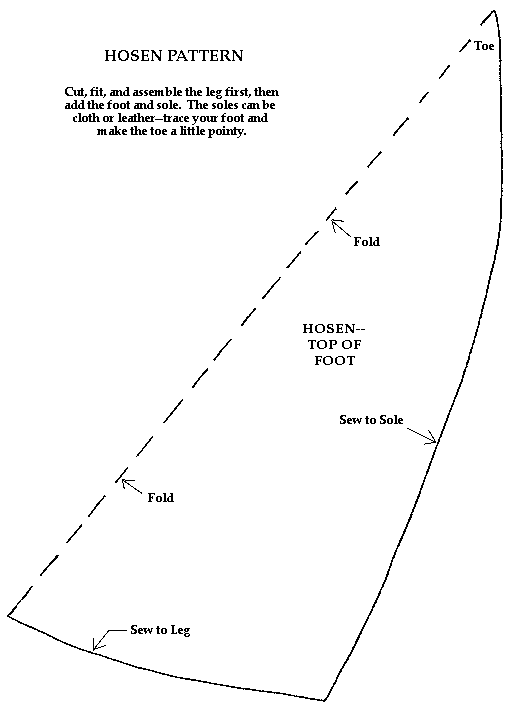 ---
---
* Home * Charter & Rules * Events * Clothing *Shields* Armor * Weapons *
* Suppliers * History * PHOTOS * Links * Bibliography *