MIDGARD BASIC CLOTHING STANDARDS
SHOES 3/29/04

| | |
| --- | --- |
| | Left, shoes made by Matthew Amt. At top are two made from the pattern below, using garment leather and sewn by machine. Middle left is a 10th century style copying an example from Durham, and next to it is a very similar 12th century type. Both have chrome-tanned leather uppers, but are hand-stitched with proper turn-shoe construction. Bottom left is a 13th century shoe fastened by two overlapping tabs with little "toggles" (short knotted thongs in this case). Bottom right is an approximation of a 14th or 15th century shoe fastened with a forked strap that passes through a pair of holes and ties. The leather and construction are not quite right, but the overall effect is decent, and it has very correct repair soles sewn on with tunnel stitches. (All of these are for the right foot.) |
Most medieval shoes were "turn shoes", sewn together inside out and then turned rightside out, to keep the stitching protected from wear. The sole is sewn to the upper with an edge/flesh seam: the stitch passes straight through the upper, then into the edge of the sole and out through the flesh (rough) side (fig 1). The edges of the uppers can be butted together and sewn with an edge/flesh seam, or simply overlapped and stitched straight through.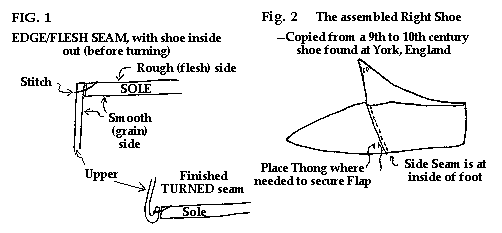 | | |
| --- | --- |
| | At left is an edge-flesh seam in progress. The awl holes are visible in the upper but harder to see in the edge of the sole, so a needle passes through one for clarity. Once that needle is pulled through, the other needle will go through from the opposite direction. The needles are on each end of a single length of waxed linen thread. The awl is also visible. I make 4 or 5 holes and stitch, then 4 or 5 more holes, etc. |
Like almost all shoes of the period, this pattern has an upper of one main piece with the seam on the inside of the foot; small inserts are added to close any gaps. The toe is pointed, and there can be an embroidered stripe running from the toe to the throat. Shoes were made with a right and left, and could be slip-ons or fastened with a drawstring.
Most surviving medieval shoes are made from very thin leather. Most reproductions are "over-engineered" and made from thicker leather (including my own), up to about 4 to 6-ounce for the uppers and 7 to 8-ounce for the soles. Be sure to use topgrain vegetable-tanned leather, not suede or chrome-tanned. (Click here for a page of leather tips: www.larp.com/legioxx/leather.html) Before doing any cutting, make a good working pattern out of scrap cloth and cardboard that fits your foot. The "seam allowance" around the bottom edge of the upper will be 1/4" to 3/8", but the sole should have NO seam allowance, since the upper is sewn against its edge. It will look very narrow.
When sewing the upper and sole together, start at the toe and sew the outside, then start again at the toe and sew the inside. Keep your stitches small and tight. A helpful trick is to glue the pieces together with leather glue or contact cement first, then stitch them. (Glue alone will NOT hold the pieces together without stitching!) Also, you may wish to turn the shoe before sewing the side seam or adding any inserts. The shoe must be soaked in water for several hours before it can be turned. When the shoe has been turned and has dried completely, coat it well with neatsfoot oil to make it waterproof and supple.
The thin soles of medieval shoes are not as protective as modern soles, of course, so you may want to insert padded or heavier leather insoles for more comfort. On the other hand, smooth leather soles can be slippery on wet grass, but a thin sole allows the toes to dig in more for better traction.
---

If this all sounds much too complicated, you can use the same pattern with thinner leather. Many garment leathers can be sewn on a regular sewing machine, and you can assemble a reasonable-looking shoe very quickly and easily. It will NOT be as durable as a proper turn shoe, nor will it protect your foot as well. Because of the thinness of the leather, it will be visibly floppier than a more substantial shoe, but its shape and general appearance should be better than a commercial mocassin.

---
For places to buy shoes, see the Suppliers page. More information on patterns and making shoes can be found through the links below.

Forth Armoury Turnshoe photos--Just for information, he doesn't seem to be selling them.
http://www.forth-armoury.com/photo_gallery/Shoes/shoes.htm
A FABULOUS website full of shoe patterns is at: http://www.personal.utulsa.edu/~marc-carlson/shoe/SHOEHOME.HTM --just be sure to read the Introduction first!
Viking Experience Kit Guide on Shoes, http://www.the-viking-expericence.co.uk/authenticity/basickit/basickit15.html
"How to Thread a Hog Bristle Needle", http://home.teleport.com/~tcl/f3.htm.
Talbot's Historical Footwear Manuals and Guides--Learn how to make your own shoes
http://talbotsfineaccessories.com/books/footwear.html.
A Basic Guide to Footwear in the Viking Age, by Jeff Clarke (Hafgrim Gunnarson), http://www.visi.com/~norseman/viking_shoe.html.
Viking Shoes by Danr Bjornson, http://bjornsson.crosswinds.net/sca/danr_as/shoes/shoes.htm.
Leather Working, by Roland Williamson--Shoes, scabbards, etc., http://www.regia.org/leatwork.htm.
Harper House Shoe-making Manuals and Patterns, http://www.longago.com/Medievalshoes.html.

Medieval Shoemaking discussion list, http://groups.yahoo.com/group/medievalshoemaking/.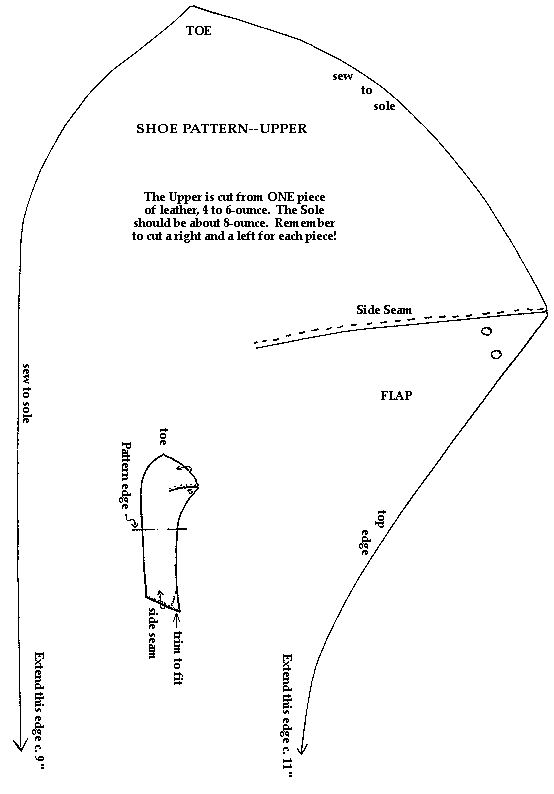 ---
---
* Home * Charter & Rules * Events * Clothing *Shields* Armor * Weapons *
* Suppliers * History * PHOTOS * Links * Bibliography *